Please note: Sand dunes are about 2 miles from our RV Park and requires ATV's be trailered to sand dune staging areas.
Fisherman's RV Park is nestled in a secluded cove, beneath a lush green forest of Douglas Fir, Cedar, and Pine trees. The surrounding waters provide some the best Salmon, Trout, Steelhead, and Bottom Fishing in the Pacific Northwest.
Located in Winchester Bay's, Salmon Harbor on Oregon's south coast, you will find yourself surrounded by lakes, streams, rivers, and the majestic Pacific Ocean. All of which offer up an opportunity for you to catch the big one! Be sure and check out the Gallery for pictures of the big ones that did not get away.
70 full hook-up sites w/30 and 50 amps
Electric, water, sewer and garbage included WiFi Hot Spots
Clean bathrooms and free showers
Laundry facility
Fish cleaning station
Boat wash area
RV Dump Station
We do not offer cable TV, however most sites are wired for cable and internet service through Charter Cable Company which you can arrange for service with them.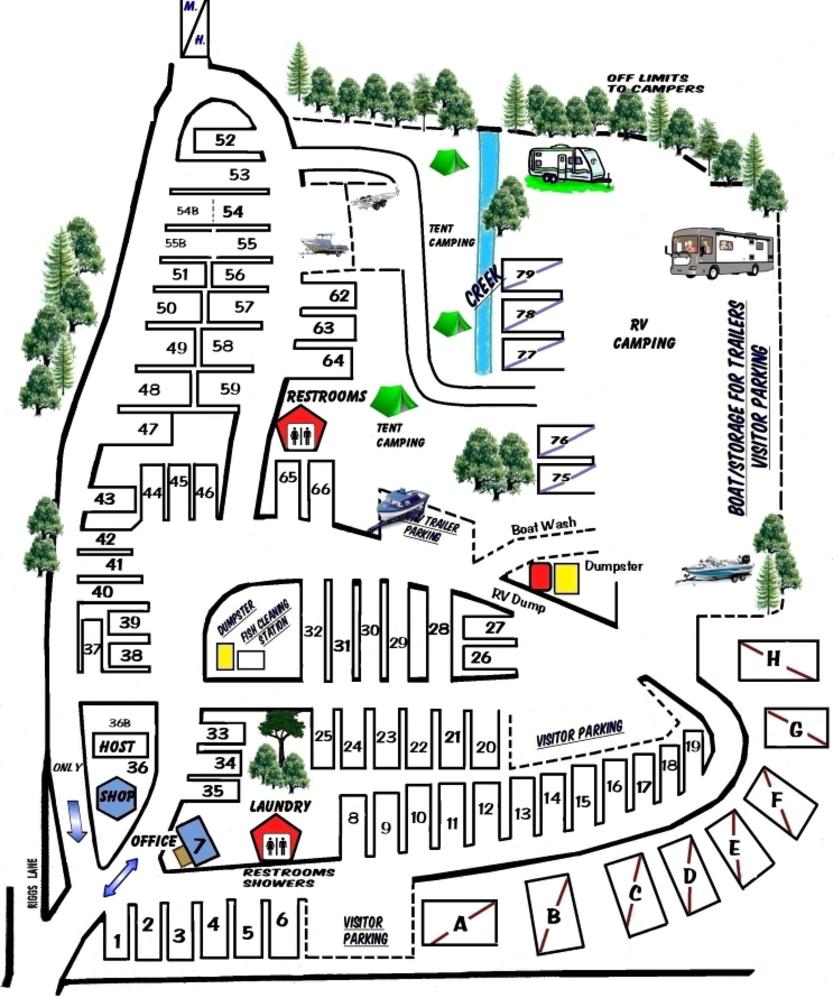 Crabs, crabs and more crabs!!
If you have your taste buds set on some of the finest tasting crab, then Fisherman's RV is the place to stay. Dungeness Crabs can be caught from several of the docks throughout the Winchester Bay harbor. If you do not have crab pots, just about every store in town carries them for sale or rent, and they sell bait too.
If fishing and crabbing aren't to your liking, but eating is, you may want to check out the Sportsman's Cannery. They have crab and a wide variety of other local seafood available for sale. Be sure and pick up one of their catalogs for those off season cravings. They ship world wide.
There are also several restaurants in the area that serve crab and other seafood delights as part of their daily menu.
Fishing and boating
We are within walking distance of the public docks for fishing and crabbing in the bay. If you brought your own boat, the Salmon Harbor Marina offers all size boat moorage and services. If you don't have a boat, there are several fishing guides to take you ocean fishing, or to take you in the river.
Recommended Guides and Services